Starting any new venture almost always involves high start-up costs and trading can be the same if you're advised wrongly. I can show how to start your trading with just £100 and NO further investment or subscriptions are needed.
Mastering a new skill while you still have a day job can be time consuming and stressful. My system will ensure you master all the essential trading skills but just do it part-time so it does not interfere with your current job, commitments and lifestyle.
Learning to trade sounds complicated and may take up all of your spare time - but if you have my clear, concise easy-to-follow instructions you'll shoot through the manual on the first read, meaning you will pick up the essential skills very quickly.
I have read of people who have lost all their money in a few months when learning to trade from scratch, but I will show you a tried and tested way to learn to trade with absolutely NO risk to your money whatsoever. This really is stress-free education.
Often home-learning involves been left on your own with no help or assistance, but with my trading mentorship you'll be able to contact me whenever you need advice or questions answered. This is for life, there's no limit to my help.
Copy My System With Step-By-Step Instructions So You Can Trade Like A Professional
Easy-To-Learn Strategy Designed For Beginners - Trading MUST Always Be Simple
No Need To Give Up Your Day Job - Learn To Trade Part-Time
Learn From A Pro-Trader With 25 Years Experience In The Markets
Lifetime Mentorship & Trading Guidance - Totally Free Of Charge
NO RISK You Have a 60-Day Money Back Guarantee
Imagine being given the opportunity to start your own home-based small business, one where you've no large investment or start-up costs, where you do not need any staff or even customers, and you can run it part-time around your existing work commitments ? And you have the opportunity of being shown how to do all this by a professional full-time trader who's been doing it for over 20 years.
If you have ambitions to change your current lifestyle, you'd probably go for it. Very quickly in fact.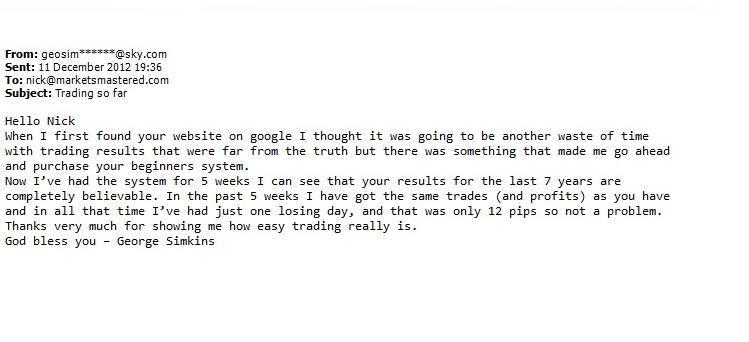 Trading from home offers a unique opportunity to run your own business without the traditional problems of starting an enterprise from scratch. You do not need to invest large sums of money to get going, you'll never have any customers, and you will not need any employees to worry about.
In the future if you take a month's holiday, your trading business will still be there when your return home, the markets are always there. Your start-up budget will need to stretch to a computer and a broadband connection, that's all ! You probably have that anyway. And you do not need any qualifications to begin trading, you just need to follow a few simple instructions.
In many ways, it's just like buying a franchise, as you have a ready-made business with all the processes already sorted for you. One difference is that you'll not need to pay thousands to buy the franchise.
Anyone can qualify to be a trader, I have taught Doctors, Policemen and Accountants, as well as factory workers, Bricklayers, HGV drivers and part-time cleaners. Mothers that need to stay at home to look after their children are also customers as well as unemployed and retired people.
My oldest student is 82 years old, and the youngest is a friend's daughter who is just 18 years old. Anyone can do this, it's that easy.
And as I mentioned before, the cost of starting in trading is so low, in fact many people just do not realise just how low it is until I show them. Because of this, I have seen an increase in unemployed people join my education programme in the last two years - why keep applying for jobs every day when you could learn to trade in a month or so instead - it's a no-brainer really. The same goes for retired people, who are also making up a significant portion of my customers. If you're on a small, restricted fixed pension, learning to trade the markets makes sense, as you not risking any of your own savings, you just start with £100 and you only trade with money you've made. How many other small businesses can you start like that?

I have been successfully trading the markets for more than 20 years, and my main aim in life now is to help ordinary people learn the same skills I mastered all those years ago. I can do this by letting you copy my beginner's trading strategy, meaning you'll learn a simple method of extracting small, regular amounts of money from the world's financial markets.
I designed this particular trading system over 12 years to help a friend who wanted to learn to trade after work, in the evenings. He did not want to give up his day-job at the time (he did eventually) so needed a method that would work part-time after he got back home from the office. He very kindly put is early trading experiences down in a short document to share with other budding new traders, you can read his story here. This system has worked very well over the years, and has not ever had a losing month, you can see the last 8 years performance on the results page.
Having a profitable system is just part of the education I will offer you. I also give you lifetime mentorship and guidance, you've got my help and assistance for as long as you want it. I'll 'hold-your-hand' and guide you through absolutely everything you'll need to know to begin trading, from choosing a company to trade with, through to configuring your price charts and spotting trading opportunities. Getting in and out of trades is easy once you know how, and I will strip away all the mystique and show you exactly how the guys in the city do it.
Also I'll email you with my own trades every day, so you'll see where I'm trading and ensure that you're matching my own trades pip by pip. Many customers tell me this is the most valuable part of my training and mentorship - and it's all included in the price. There really is no ongoing costs, royalties or fees, once you've mastered my systems your profits are all your own, there's nobody else to pay and your monthly business expenses are only the cost of your internet access and perhaps a new laptop every few years, just to keep up with the latest technology (if you really want to).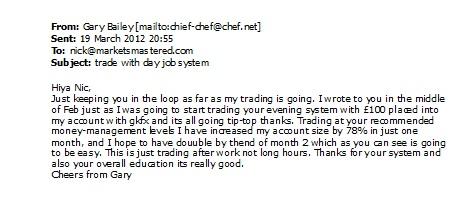 Here are a few questions that I'm often asked:
So What's My Trading Day Going To Look Like?
This is part-time trading system, so there's no need to watch your charts all day. After you get in from work you'll switch your computer on and load up your trading platform software in a couple of minutes. You look out for two occurrences on your price chart, and when they happen at the same time, you have a trade opportunity. The next thing you need is for the price to move to the 'trigger' level and if it does that, you'll two clicks of the mouse to get into a trade. All you need to then is wait for the price to hit your target level and you come out of the market and bank your profit - it really is as simple as that. 90% of the time you will have just one trade in the evening, so after you've closed it off, turn off the computer and the rest of the evening is your own, no more 'work'.
How Long Will It Take For Me To Learn The System?
Obviously everyone is different and people all learn at a different pace and speed. It also depends on how much time you can dedicate to your studies.
Generally a new student will get to grips with the basics of the system in their first trading session, after they have read the system manual two or three times. They will then be up and running usually within a week or so, although it can take a couple of weeks if you are totally new to financial charts.
Will I Need Any Specialist Or Expensive Software?
No. The charts you'll be trading on are widely available free of charge from numerous suppliers. I will recommend three companies you can choose from to start your trading, and once you are up and running, you'll have the choice of literally hundreds of trading companies. I will of course help you choose the one that is best for your situation.
There are NEVER any ongoing costs or subscriptions to pay.
What If I Find The System Hard To Understand?
An understandable worry, this problem puts many peopl eoff right from the start, which is a shame because trading offers such a great working life, whether you do it part-time or full-time. Since I have offered my 'beginners' system to customers in 2008, I have never once been told by a new student that they could not understand any part of the strategy. The manual is laid out in easy-to-follow way with plenty of illustrations, however if you do get stuck, I'm here to help you.
How Much Can I Earn From This System?
The best way for a new trader to grow their trading account is to have a system or strategy that allows them to earn small, regular amounts of money from the markets every day. My 'beginners' trading system has a daily target of just 20 pips (points) and this is normally achieved with just one trade. If the system does have a losing trade, I also have a unique method of clawing back the loss and still ending the session with a 20 pip profit.
And How Much Could I Lose?
I have a very strict money-management rule regarding stop-losses, so the maximum you can lose in any one trade is 20 pips, and often it's a lot less than that. As you can see from the published results I have around an 80% winning ratio of trades, so you'll always be ahead with your trading account.
What Times Can I Trade This System?
I designed this system so it could be used by people who already have a day-job, so it work in the evening (UK time) from 5pm to the U.S. market close at 9pm.
I have many customers in Australia who trade this system early in the morning before they go off to work.
What Instruments Can I Trade With This System.
The system works with just the S&P500. The advantages of this are two-fold. Firstly you'll learn how this index works, which will help you in your trading in the future, and also I'll show you certain occurrences that happen time and time again on the S&P500 chart that will make your trading easy in the years to come.
How Much Money Do I Need To Start Trading This System?
To begin with, absolutely nothing. For the first few weeks, you'll practice trading with a demo-account. This means you'll risk none of your own money, you'll be trading with imaginary money while you hone your trading skills. Once you are taking the same trades as I am, you can put just £100 into your trading account and begin building up your balance from there. You will never need to put any more money into your account as I will show you how to compound your earnings as you go along. Your salary and savings are safe, and once you learn my system, your future's safe as well.
If you have any other questions, we can talk face-to-face if you would like, just email me and book a Skype session.
So there's some insight into the mentorship I will offer when you learn to trade with me, but don't take my word for it, here are a few more comments from customers who have already learnt to trade the markets with my help.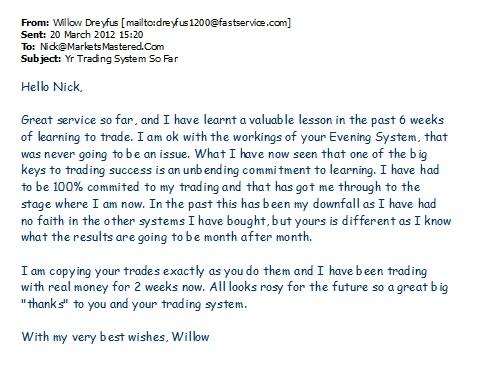 So to sum up, here's what you'll be getting when you join Markets Mastered Trading Education
Learn How To Trade With a Simple, Easy-To-Copy Trading System
I Will Teach You How To Be Consistently Profitable. I Will Show You How To Win 80% Of The Trades You Enter, So Increasing Your Confidence
Learn Part-Time Around Your Day Job Giving You a Stress Free Education
Lifetime Help And Assistance, Not Just For My Systems But Also For Anything Trading Related
Ultra-Low Start-Up Costs. Just £100 Will Enough
Clear Concise Instructions Will Turn You Into a Master Trader Quicker Than You Think
Daily Emails From Me To Assist You With Your Progress
You Can Learn At Your Own Pace, In Your Own time
60-Day Money Back Guarantee
Finally, here is an email a customer sent me quite a while ago, but I have kept it on file as I think it really sums up what I offer to people who just want to learn to trade and earn themselves some extra money.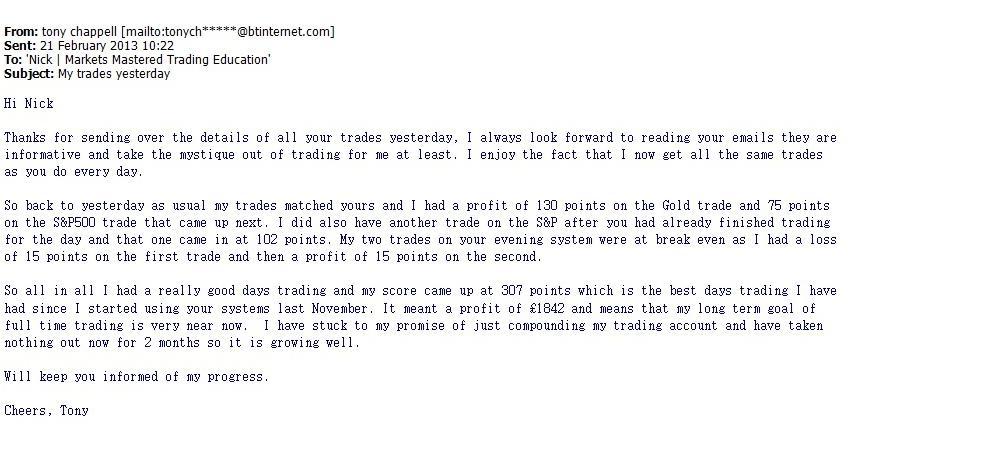 You can download my beginner's trading system (Trade With A Day Job) using the button below and it will be delivered to you in a couple of minutes no matter where you are in the world or what time it is where you are.
The cost of the system will make no difference to your standard of living, but what it will teach you most certainly will.
£88.00